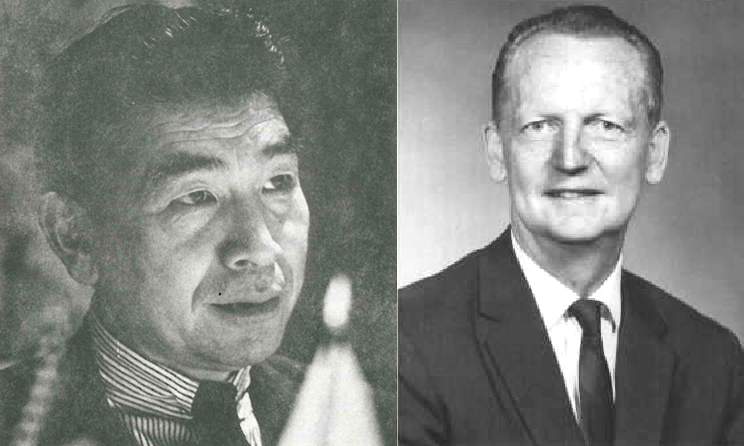 The photo above shows H. William Tanaka (left) and Ambassador Marshall Green (right), both past presidents of the Japan-America Society of Washington DC. 
In 2014 JASW established the Tanaka and Green Academic Scholarships to support short-term academic study (one semester or one academic year) at colleges and universities in Japan. The scholarships are made possible thanks to the Society's H. William and Lily Tanaka Scholarship Endowment and the Marshal and Lispenard Green Educational Endowment.
The Society will give $5000 for one academic year and $4000 for one academic semester. The scholarship may be used for any combination of tuition and other academic fees, room and board, travel and transportation (including internal Japan travel), and other approved expenses.
To view scholarship requirements and procedures for the 2017-2018 school year, please click here for a PDF.
Inquiries

Any questions about the JASW Tanaka and Green Scholarships Program should be submitted in writing to JASW at scholarships@jaswdc.org for response by the Scholarship Committee. Please do not call.
Recipients of 2016-2017
The Japan-America Society of Washington DC is pleased to announce the following recipients of the Tanaka and Green Academic Scholarship for the 2016-2017 school year.
Crystal Brooks- Shepherd University
Akita International University
Emily Howard- The George Washington University
Waseda University
Elizabeth Thorne- American Univeristy
Waseda University
Amy Wei- Johns Hopkins University
University of Tokyo
Kevin Yuan- Georgetown University
Waseda University
Recipients of 2015-2016
The study abroad reports written by the recipients of the Tanaka and Green Academic Scholarship for the 2015-2016 school year can be viewed by clicking the links below.
Phoebe Bui- George Washington University (report)
Waseda University
Amanda Buker- University of Maryland (report)
Nanzan University
Emily Markley- University of West Florida (report)
Kansai Gaidai University
Mia Saidel- American University (report)
Waseda University
Frank Pallone- Kenyon College (report)
Waseda University
Kima Sluchansky- University of Hawaii at Manoa (report)
Chuo University