Japan-America Society of Washington DC Staff
---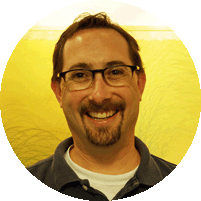 Marc Hitzig
Executive Director / Sakura Matsuri – Japanese Street Festival Director
Marc has worked for the Japan-America Society of Washington DC for more than 14 years. He currently sits on the National Cherry Blossom Festival Board of Directors and the Arlington Sister City Association Board of Directors. Prior to working at JASWDC, he spent three years as an Assistant Language Teacher on the Japan Exchange & Teaching (JET) Program in Nagaoka City, Niigata. While on the JET Program, he enjoyed learning Japanese pottery and the culture of Japan. Marc received a bachelor's degree in Asian Studies from the University of Cincinnati.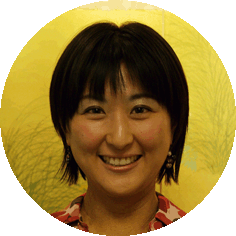 Risa Okayama Kamio
Director of Educational Programs
Before JASWDC, Risa was a Japanese teacher at Glenarden Woods Elementary School in Maryland and an educational coordinator/tour coordinator/interpreter at Japan Travelers Service, Inc. (also known as America Information Service, Inc.). She attended the ladder program of the International School of the Sacred Heart in Tokyo and went on to study American literature at the University of the Sacred Heart.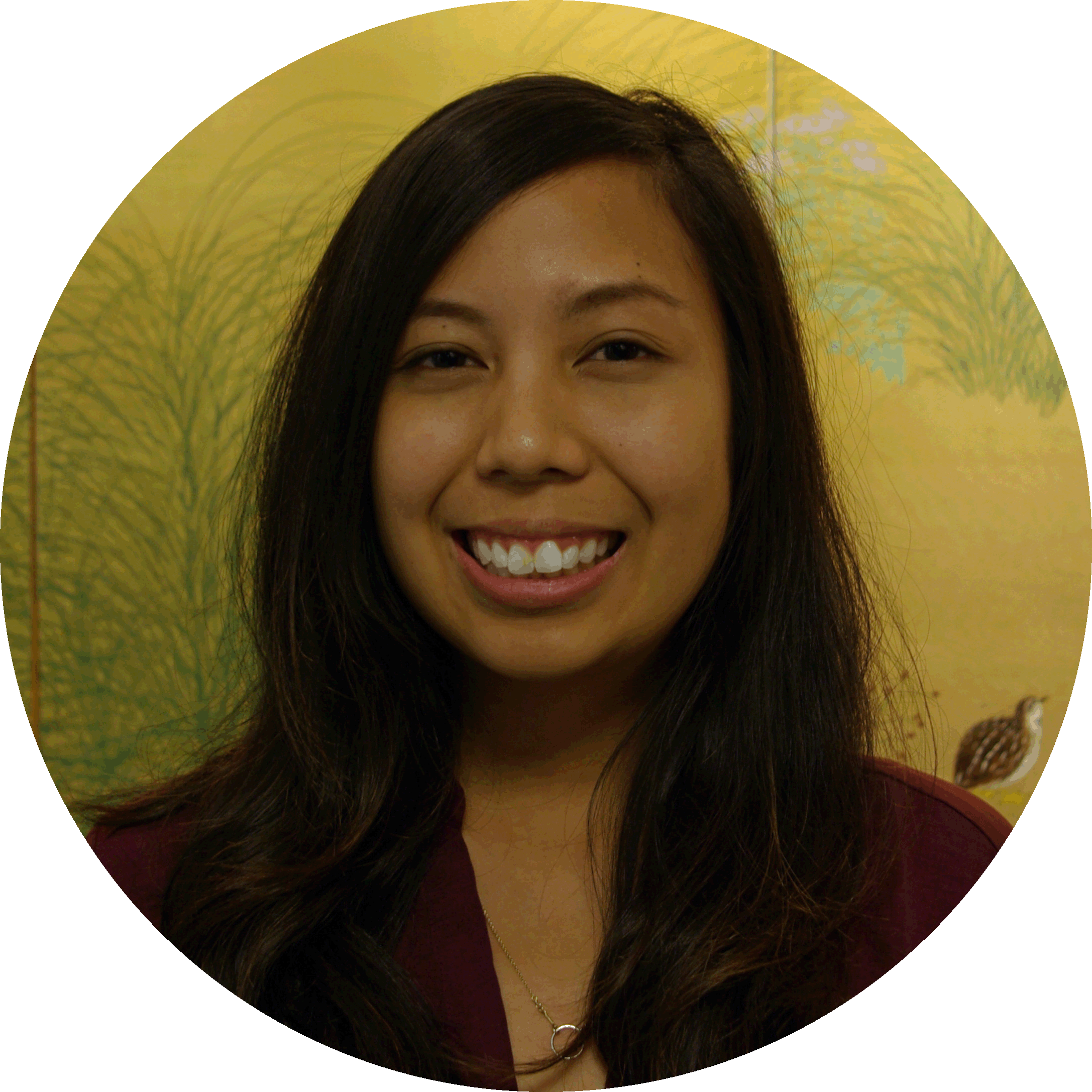 Melissa Tolentino
Assistant Director of Educational & Public Outreach / Communications Manager
Melissa was born in the United States and spent several years moving back and forth between the U.S. and Japan as a military dependent. After graduating from the University of North Carolina at Chapel Hill with bachelor's degrees in Journalism and Japanese, she went to graduate school at Waseda University in Tokyo and received a master's in International Culture & Communications. Melissa is also a published writer of both fiction and poetry.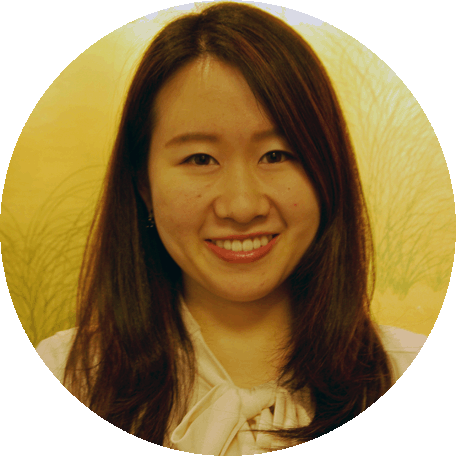 Yuko Hishitani Smith
Membership & Programs Coordinator / Sakura Matsuri – Japanese Street Festival Assistant Director / Director of Japanese Relations for the Festival
Yuko was born and raised in Kyoto, Japan and went to Ritsumeikan University where she majored in literature focusing on international cultures. While a student at Ritsumeikan, she joined the Dual Undergraduate Degree Program (DUDP) and studied at American University for 2 years, where she received another degree in international relations. After graduation, she worked at NNR Global Logistics in Japan for 3 years before moving back to the U.S. in 2016.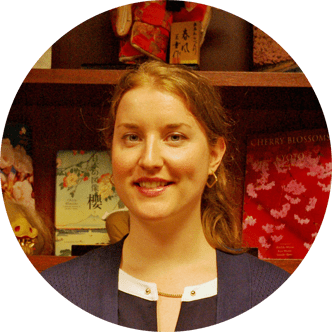 Nancy Marsden
Japan Bowl Program Manager / Japanese Community Public Relations Coordinator
Nancy was born and raised in Canada, and began taking Japanese in grade 5. She continued studying Japanese after moving to the United States in high school, and was a participant in the National Japan Bowl. She graduated from the College of William and Mary with a double major in East Asian Studies and Music, and studied abroad at Keio University her junior year. She earned her MA in Ethnomusicology from the University of Hawaii at Manoa, then taught English in Tochigi before working as a translator for Honda Motor Co., Ltd. for 3 years. While in Japan she studied Japanese cooking and kimono dressing and won the foreigner division of the All-Japan Kimono Yosoi Contest and was made an honorary ambassador (yukai shimin) of Utsunomiya City in 2017.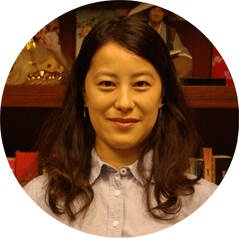 Rieko Murayama
Program Coordinator Assistant (Volunteer)
Rieko was born and raised in Saitama, Japan. After working at Japan Highway Public Corporation for over a decade, she moved to Canberra, Australia for 2 years. During her stay in Australia, she studied English at an institute with multicultural classmates from various countries, and learned the joy of acting as a bridge between Japan and other countries through volunteer activities.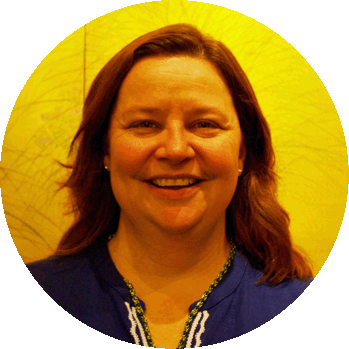 Colette Fozard
Sakura Matsuri – Japanese Street Festival Director of Operations
Colette is a consultant with JASWDC. Colette is a professional events manager and, in addition to the Matsuri, has organized and/or assisted in the facilitation of conventions, dinners, and concerts all over the United States and overseas. When not running events, she loves attending them.
Yuko Constas
Sakura Matsuri – Japanese Street Festival Manager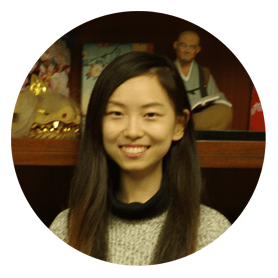 Hitomi Yasumoto
Sakura Matsuri – Japanese Street Festival Volunteer Coordinator (Intern)
Hitomi was born and raised in Kyoto, Japan, and is currently studying abroad at American University, where she studies political science, especially U.S. foreign policy. At her home university, Osaka University, she majored in linguistics and international relations. Hitomi has a special interest in foreign languages and cultures and has previously studied Latin and Sanskrit. In her spare time, she enjoys Korean dramas, especially historical ones.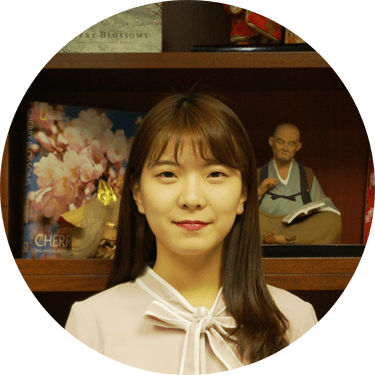 Ai-Ling Wu
Sakura Matsuri – Japanese Street Festival Public Relations Coordinator (Intern)

Ai-Ling was born and raised in China. She majored in international journalism and communication at the Foreign Studies University in Beijing. She previously interned in a news agency, a television station, and at Ogilvy's PR department, and is currently a graduate student at Georgetown University in the Communication, Culture & Technology (CCT) program. She has a great interest in Japanese culture and art, as well as brand building for cultural products, especially anime. She believes that good animation works can build bridges among various cultures.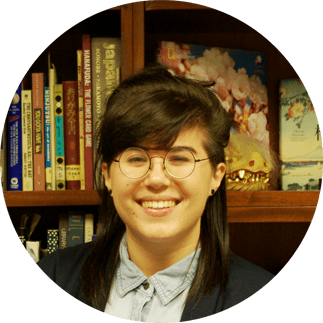 Molly Page
Japan Bowl Assistant (Intern)
Molly is a senior at the George Washington University, pursuing a double major in Japanese Language and Literature (concentration in Linguistics) and Film Studies (concentration in cinematography). While working as an East Asian/ International Admissions intern and part-time ESL teacher, she received her TESOL (Teaching English to Speakers of Other Languages) certification at the International Language Institute of Washington, DC, and has enjoyed teaching ESL to students of various language backgrounds since. Her interests include learning East Asian languages, translating Japanese-English works, animation, filmmaking, and screenwriting in Japanese and English.
Juliana Kogan
Japan Bowl Assistant (Intern)
Juliana was born and raised in Ukraine, and is currently pursuing a degree in International Relations at the George Washington University. She is concentrating in International Development and the Asia region, as well as minoring in Japanese Language and Literature. Juliana spent time abroad at Waseda University in Tokyo where she studied folk bon odori dancing and kimono dressing. Her interests include Japan-English-Russian translation, comics, and politics.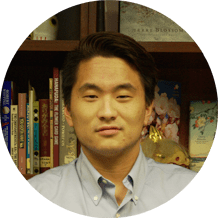 Jamie Miura
Japan-in-a-Suitcase Coordinator (Intern)
Jamie is a sophomore at McGill University pursuing a bachelor's degree in Political Science and East Asian Studies. He will study abroad at the University of Tokyo from April. His interests include Asian politics, Japanese history, and Korean dramas.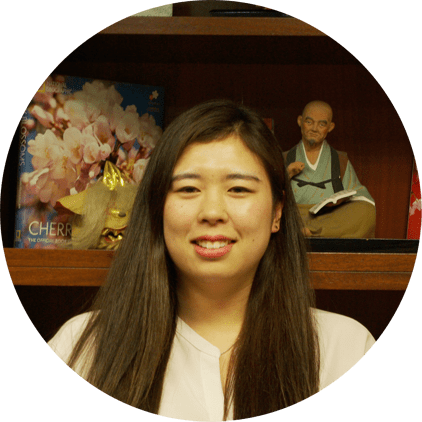 Momoko Nakano
Japan-in-a-Suitcase Coordinator (Intern)
Momoko was born and raised in Fukuoka, Japan and is currently studying international relations at Kitakyushu University. She previously worked as an intern with Walt Disney World in Florida, and is currently with the Japan Internship for the Development of Young Leaders (Japan IDYL) program, which is a joint venture between the Ministry of Foreign Affairs (MOFA) and Cultural Vistas. Her interests include culture differences, sports, and foreign languages.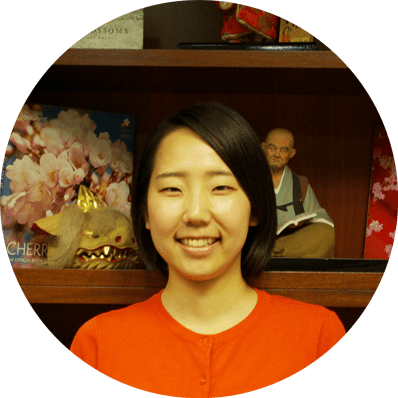 Tomomi Sakurai Dodd (Society Volunteer)
Tomomi graduated from Temple University and has worked for international agencies for more than 6 years, with experience in international trading businesses.