This exhibition has ended, but catalogs are still available for purchase. Please scroll down to view the details.
The Exhibition
The Japan-America Society of Washington DC and Japan Information & Culture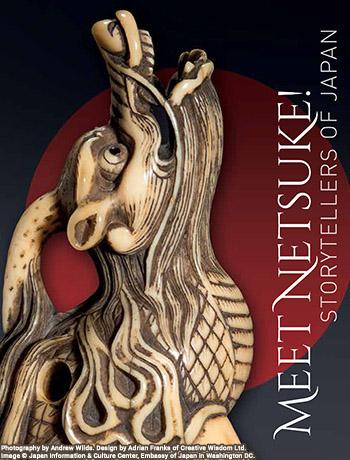 Center (JICC) presented a unique exhibition of finely crafted miniature sculptures known as netsuke [pronounced netz-kay] brimming with stories of life during Edo period Japan (17c-19c). Netsuke originated as functional accessories, but grew in popularity as eccentric fashion statements. Rarely displayed in public in these numbers, these pieces display not only rich history, but also meticulous craftsmanship.
Originally created as toggles to attach wallets, tobacco pouches, and other small boxes to the obi belt on Japanese kimono, netsuke became symbols of wealth, character, and personal values. Artful sculptures of everything from comical creatures to honored elements of nature, frightening mythological figures, and scenes from everyday life, each netsuke piece has a unique story to share about Japan.
The exhibition ran through the 2017 National Cherry Blossom Festival and ended on May 15.
The Catalog
The catalog is a 155-page book filled with the full descriptions and rich, color photographs of each of the netsuke that are part of this exhibition. Organized by Takaaki Nemoto and Yoko Tsuge, the two diplomats who put together this exhibition from the very beginning, with photography by Andrew Wilds and Will Kirk, the catalog is highly recommended for those who visited the exhibition and want to take it home with them, for those unable to attend the exhibition in person, and for all netsuke and Japanese art lovers.
View a sample of the catalog here. 
All proceeds will go to planting cherry blossom trees throughout the United States, especially in the greater Washington, DC area, to promote the U.S.-Japan friendship.
Co-presented by the JICC and the Japan-America Society of Washington DC. Sponsored by the Freeman Foundation and a generous local donor. Works loaned courtesy of the Evergreen Museum & Library, Johns Hopkins University, Baltimore; and the Beverly and Jay Hopkins Collection.